Now don't get us all wrong. Just cause we like 'em white don't mean we're uncle toms. And you better not go stereotyping us as a bunch of gangsta thugs neither. My boys are all kinds peeps, from poets to businessmen to students. The thing we've all got in common though is the love of the game. We've all perfected the white girl hustle. Every new chickenhead we pluck is just another notch in our belts. We love these white trophies and are trying to collect them all!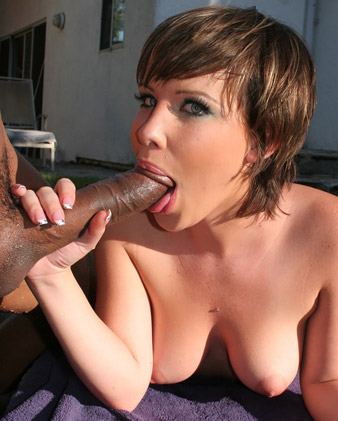 In the privacy of her own backyard Katie St. Ives strips out of her bikini to avoid tan lines, she lays prone on the side of her pool. When Justin Longs bald black head pops out of the water with a mouth full of flowers she is instantly charmed by his effort. He covers her in wet kisses, from her feet to her tight round bottom. He rises out of the pool to give her a glimpse of his extra long dick, she eagerly takes it into her hand and sucks it deep down her throat. to her surprise it grows even bigger between her lips. They take the party inside for more privacy so Katie can scream as loud as she wants with a big cock in her twat.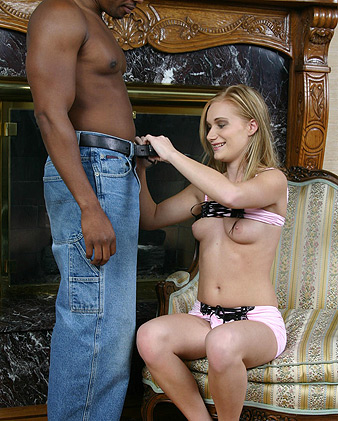 Katie Rae's a homely rich white girl that wants to do nothing else but play with her pussy all day. She's got the lingerie, the toys and all the time in the world to keep herself satisfied. But there's one thing she doesn't have yet, and that's some black cock. Fortunately her pool boy has exactly what she's looking for, and she's about to get owned by our boy's massive muthafuckin dick! Billy gives it to this bitch so good, pulling her hair and treating her like the rich white whore she is. Within minutes of fucking she's ready to cum all over his big black dick. Watch her take it deep in the ass too, before finally eating a warm load of Billy's chocolate cream.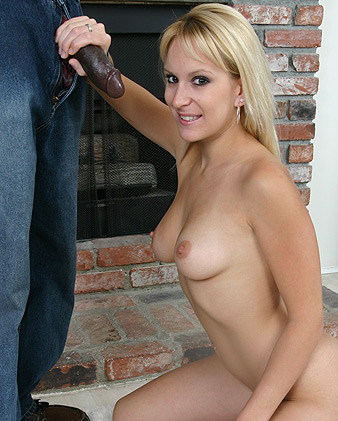 Erin Moore is a blonde babe with an incredible body. This horny girl with a very pretty pussy loves to masturbate at home when she's all alone. But there's one thing she loves even more than her own fingers, and that's brothaman's big black dick! Watch as she goes down on Bryon Long, gagging and choking the entire time. This white bitch ain't never seen a cock like this before. Dreadlock Byron loves every minute of it, grabbing her head from the back to make her skinny white ass take it balls deep. After her tonsils are all red, she finally gets a chance to ride his pony. This girl takes it from every position, but our favorite is when she's getting tapped from behind and she arches her back while sticking her ass in the air. Damn girl, you fine as hell!


Sledge Hammer is perfect for her smooth cunt. She flaunts her curves in front of Sledge, appearing in a tiny white bikini that shows off her awesome natural boobs. These hooters are fucking incredible! There is some hot oral sex between the good-looking interracial couple, including some extremely hot 69 action. Tara bounces on the dick before Sledge takes over, finishing her off with a manful doggy style thrusting.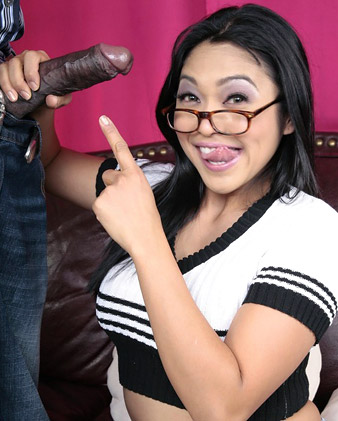 It's been a while since Mika Tan has had some cock. She's going to need a pretty big one to satisfy her craving; luckily big Neno is here with his massive black dong. Mika makes a sloppy mess of his cock while sucking and getting titty-fucked with his huge black pole. She loves big black dick in her tiny tight Asian pussy. She takes every inch of his huge dick to the back of her throat and tastes her wet pussy juices. Sexy Mika keeps her glasses on while fucking and sucking, and taking a pounding to her neatly shaved pussy with just a landing strip of hair. He drops some cum on her glasses and rubs his big cock on her pretty face.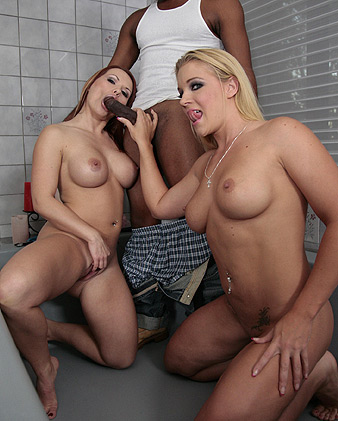 When Heidi and Katja hire a plumber to fix the drain in their bathtub, they ask Ace if he can also use his tool to fix their rusty pussies. To entice him even more, the girls jump into the shower as he's working and put on a good soapy rub down show. Ace can barely contain himself, and starts playing with his cock before dropping his pants for a tag team suckfest. He then moves the bitches to the bed and fucks their shaved white cunts with his big black manhood, making both girls squeal. Katja even gets some anal before Ace pulls out to shoot jizz all over Heidi's fat ass.