If you like white girls as much as we do, then you need to roll with our crew. We're on the hunt for sweet white ass every damn day, and we don't stop till we get it, get it! So step inside and join us for the best interracial adventure you'll ever witness. Cause when my boys are on the prowl, ain't no white girl safe from catching jungle fever. We're making teachers, neighbors, employers, and those slutty hoochies at the bar all moan with excitement.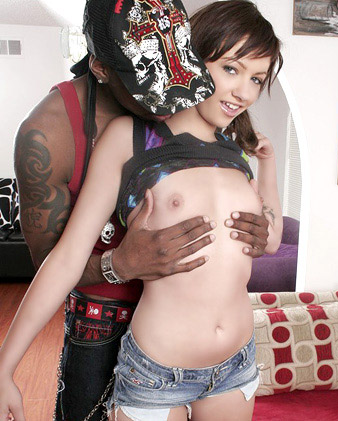 Sweet young brunette Peyton is sitting outside letting her cute little dog climb all over her. Scooping up the dog she goes to sit on a bench while she finishes sucking on her popsicle. Her jean shorts are so short and tight you can see her camel toe, she realizes her puppy has ran off and starts to make reward posters. Jon Jon arrives at her door with her puppy and she jumps into his arms to thank him. She has no money to give him so she offers her body as a reward letting him do whatever he wants and boss her around until he is satisfied.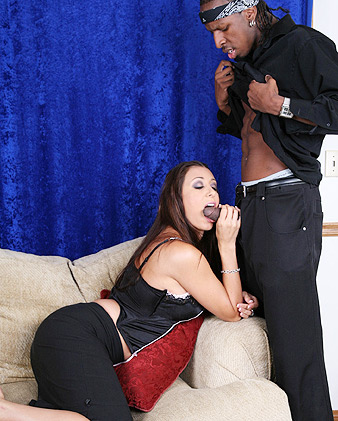 Jon Jon's back and he's uglier than ever! Ha ha, we just playin' boy! No matter how he may look to you, our boy Jon Jon still gets the white pussy. Girls fall for his charm every time and they always end up asking to at least see his dick. Kaylynn is no different. Even though she's married and classy and shit, she's still got a thing for the ghetto. Younger black guys turn her on and Jon Jon's carefree attitude got her thinking wild thoughts. Since she hadn't been getting any from her hubby, she got Jon Jon to unzip and show off his goods. She couldn't resist taking a bite of some thick dark chocolate. Watch her lick his lollipop before getting on top, reverse cowgirl from some slow, sensual grinding. Her meaty pussy and big ol booty enjoy every minute of the poundage and her tastes buds are still relishing his delicious cum.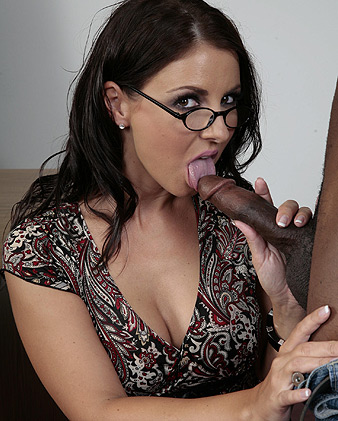 Tee Reel is trying to edumacate himself by taking late night classes. Maria Bellucci is one hot muthafuckin teacher that makes it hard to concentrate on one's studies. When Tee gets the notion that Maria has as much of a thing for black dick as he has for white pussy, it's on like donkey kong. Watch as Maria drops to her knees and wraps her big lips around his juicy tubesteak before propping herself up on the desk for some doggie. This black haired bitch is a great fuck and loves to ride the horse cock reverse cowgirl. Like most anal retentive teachers, she even likes it up her tight ass, so Tee pops her sphincter it like only brotha can.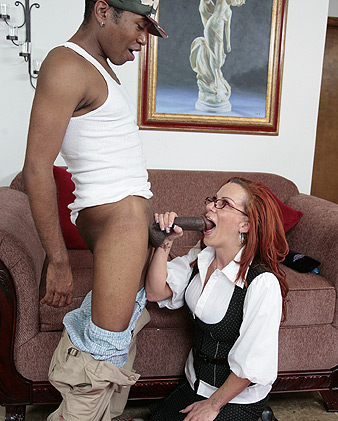 Shannon Kelly just makes my sexy redhead radar scream - she is just out of this world, and I love seeing her in this nasty outfit that leaves nothing to the imagination. She gets called over by Ace, and he just cannot believe that this sweet piece of ass is coming over to fuck the hell out of him. I fucking love seeing that shit, especially when she opens up her mouth nice and wide to give him an interracial blowjob that he will never forget. Her pussy is great to him too, but that mouth just takes the cake over everything else.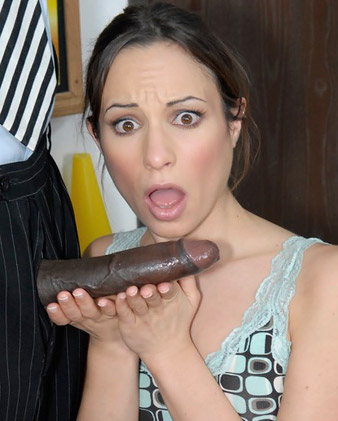 The black teacher had quite enough with Amber's behavior at school. She's cracking jokes about how detention doesn't really matter, until he threatens to call her parents. After thinking it over, he does come up with a punishment that fits the crime. In order for her to earn the "Good Conduct Award", Amber has to do some hard time with the professor's big, hard, black dick! Good thing she's an eager student, and one that doesn't mind some spankings as well. She does as she's told, hopping on the teacher's desk and taking a deep pussy pounding. To get extra credit, she opens up her ass for the anal fucking of both their dreams!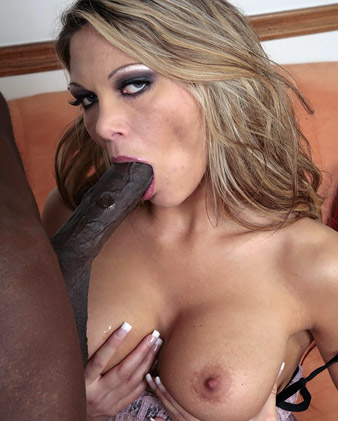 It's safe to say that Anna Nova wants to fuck. This horny white girl shows off just how wet she can get her tight pussy all alone. Good thing Byron Long comes into the room, because this white girl's pussy can only be satisfied by big black dick. She sucks hard, deep throating and gagging on his cock as he rubs her clit making her moan. This white girl jumps right on top of him and takes his huge rod right inside her wet pussy where he rips into that tight cunt. She licks his cock clean of her own juices, before she gets her tongue painted white with his jizz.